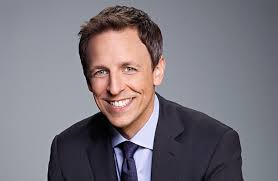 Comedian Seth Meyers has welcomed a son, who made a dramatic entrance into the world in the lobby of the popular TV host and his wifes apartment building. "The Late Night with Seth Meyers" host, 44, welcomed his second child, son Axel Strahl, with Alexi Ashe on April 8. He shared the story of the baby's birth on Sunday, reported people.com.
Meyers, who also has son Ashe Olsen, 2, told his audience on Monday that his newborn son couldn't wait for his parents to make it to the hospital for his birth.
The happy father thanked the New York Police Department, who arrived just after the baby did and helped cut the cord, and his neighbours who put towels in the dryer to keep the baby warm with until more help arrived.
"I called 911 and over the course of a minute conversation, I said, 'We're about to have a baby – we're having a baby – we had a baby," Meyers said.
He began to cry as he spoke about his wife, but then joked: "I'm getting choked up thinking about how brave I was."
He also showed off a photo of the birth on the show, which depicted his wife lying on the ground holding their son to her chest as emergency personnel held an oxygen mask to her mouth. Meyers knelt beside her grinning away at the camera.
Meyers said his son's middle name honours Ashe's grandparents who met in a hospital in Austria the day after they were liberated from a concentration camp.