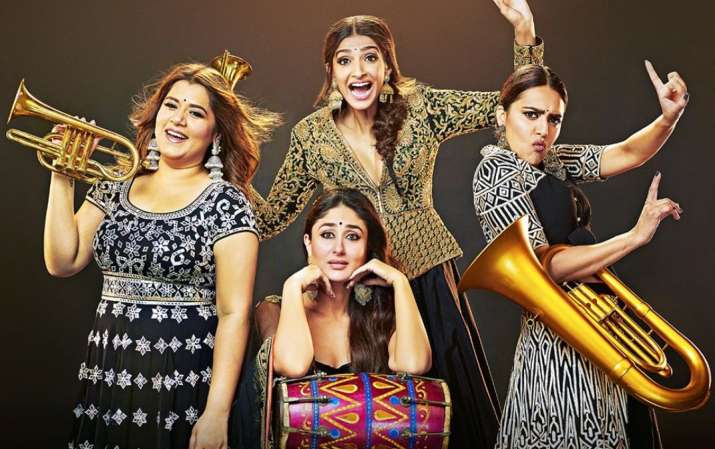 Sonam Kapoor Ahuja believes her upcoming film Veere Di Wedding is an entertaining take on gender equality. The 32-year-old actor, who was in the capital along with the cast of the film– Kareena Kapoor Khan, Swara Bhasker and Shikha Talsania — says the aim was not to make a film promoting women empowerment, but to present a normal story about four female friends. 
"Veere… talks about gender equality in a very entertaining way. It is a female driven film, but it is not about women empowerment or anything like that. It is celebrating four people, who are women. The idea is to reach a point where we are not discussing that there are four women in the film. We should be discussing that it is such an entertaining film. I wish we come to a point that it becomes normal to have a film with all female cast," Sonam said in a group interview. 
Swara, who plays the role of Sakshi in the film, says the Shashanka Ghosh-directed movie is empowering as it focuses on choices women make. 
"For me 'Veere' is empowering as it is about choices. For me what was liberating about this film is that it was about four girls, but there was no violence, social issue or anything. I am not saying this in a derogatory way because I come from that kind of cinema and I am proud of it. But because it is something so liberating, that you can have a normal entertaining film about four girls," she said. 
The team has promoted the film with hashtag #imnotachickflick and Sonam said they decided to go with the strategy as they did not want their movie to get attached to any kind of labels. 
"There is nothing wrong with Veere… being called a chick flick. But it is a label in which all the films about women are being put into. We don't have genres for a film with female leads. There are genres like action, comedy, drama for a film with male leads. But when there are females in the film it is immediately called a chick flick overlooking its real genre. 
"We are shying away from labels and saying we don't want to be put in a box. It is a film about four friends which anybody can watch. My sister said, 'I am not making a film for chicks'. It is a derogatory term for women anyways," she said. 
Produced by Ekta Kapoor and Rhea Kapoor, Veere Di Wedding will hit the theatres on June 1. 
(With PTI Inputs)