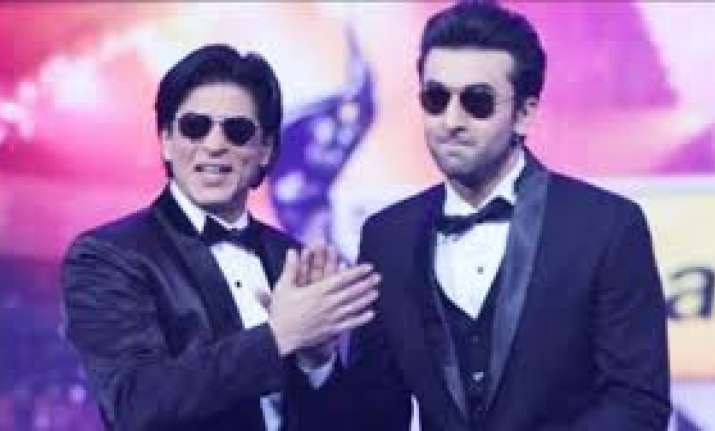 Several Bollywood stars such as Shah Rukh Khan, Ranbir Kapoor, Alia Bhatt and Abhishek Bachchan recently attended the engagement bash of Akash Ambani and Shloka Mehta held at the Ambani residence Antilia on June 30.  The celebrities made sure that all the guests present had a blast. SRK and Ranbir Kapoor were seen at their best during a dance performance at the bash.
Apparently, at some point in the evening, the Bollywood stars decided to join the Ambani family on the elaborate stage –there are Sanjay Leela Bhansali sets that look bland in comparison – and give an impromptu dance performance.
In the video Shah Rukh Khan is seen dancing to Gal Mithi Mithi and Ranbir, Alia and Arjun are seen joining him. Akash and Shloka's friends had put up a performance on this number from Aisha.
Ranbir Kapoor, Abhishek Bachchan, Arjun Kapoor and Shah Rukh Khan dancing at the Ambani-Mehta engagement pic.twitter.com/YkXA2pEerU

— Ranbir Kapoor Fan Club (@RanbirKapoorFC) July 1, 2018
SRK was reportedly seen cracking jokes with Akash Ambani and Sachin Tendulkar and asked Ranbir Kapoor about Sanju. Take a look at Shah Rukh Khan taking centre stage at the performance in the video below shared by his fan club on Twitter!
King Khan takes the center stage to make it a memorable night for everyone.@aliaa08 , @arjunk26 , #RanbirKapoor and others join him on 'Gal Mitthi Mitthi' at #akashshlokaengagement ! ❤️ pic.twitter.com/DQE1BmmKk8

— SRK Universe (@SRKUniverse) June 30, 2018
Talking about the couple of the moment- Akash and Shloka- well they had a roka ceremony in Goa, a few months back which an intimate affair as Akash proposed to his childhood friend in March. About last night's event, it was reportedly being coordinated by luxury wedding planner Seven Steps Weddings. Karen Tran, a floral designer from California, was assigned to decorate the venue- evident enough the Ambani mansion looked ethereal and so does the couple.Mukesh and Nita Ambani's eldest son Akash is all set to marry his fiancé Shloka Mehta by end of this year. 
There have been massive celebrations at Antilia, the Ambani residence for the past a few days. From the couple's Mehendi/Pre-Pre Engagement bash, which was attended by Priyanka Chopra and Nick Jonas, to the pre-engagement bash attended by Alia Bhatt, Ranbir Kapoor, Shah Rukh-Gauri Khan, Priyanka Chopra and Nick Jonas- the vibes at Antilia has been extremely festive.