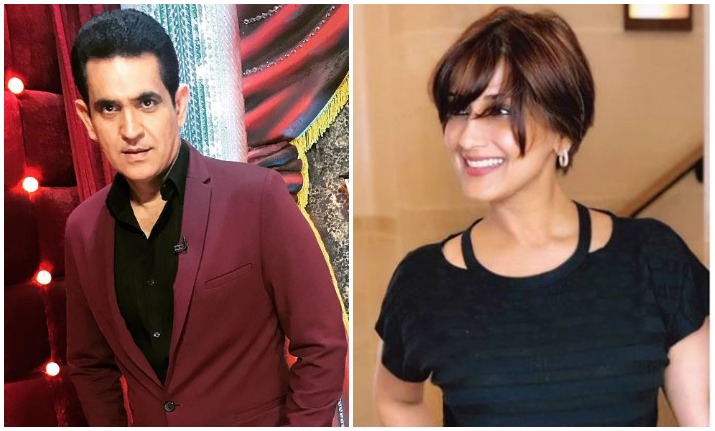 Sonali Bendre is battling a high-grade cancer, about which she revealed on social media last month. Her close friend Omung Kumar, who was her former co-judge at the reality TV show India's Best Dramebaaz believes that she is a strong person and a fighter. The actress was diagnosed with the cancer while she was still judging the reality show on Zee TV. She had to leave the show in between as she went to New York for her treatment. She was replaced by Huma Qureshi, who sits in the judge panel with Vivek Oberoi.
Praying for Sonali's good health, Omung told IANS: "I miss her a lot, but I know she is a fighter, she will come back for sure. I think she is going to come back before the finale. Get well soon, Sonali."
Omung, who judged a few episodes of the show with Sonali, said her presence on the set used to create a beautiful atmosphere.
"Sonali is a mother figure. She is a calm and composed person, so while judging the show, she knew better than me and Vivek about how to deal with the kids.
"She and I used to discuss our issues on the set. We had a lot of fun. As a judge, as she is a mother herself, she knew the best when to behave strictly with the kids and when to have fun," added the "Mary Kom" director.
Breaking the news on social media, Sonali Bendre wrote, "Sometimes, when you least expect it, life throws you a curveball. I have recently been diagnosed with a high grade cancer that has metastised, which we frankly did not see coming. A niggling pain led to some tests, which led to this unexpected diagnosis. My family and close friends have rallied around me, providing the best support system that anyone can ask for. I am very blessed and thankful for each of them.
There is no better way to tackle this, than to take swift and immediate action. And so, as advised by my doctors, I am currently undergoing a course of treatment in New York. We remain optimistic and I am determined to fight every step of the way. What has helped has been the immense outpouring of love and support I've received over the past few days, for which I am very grateful.
I'm taking this battle head on, knowing I have the strength of my family and friends behind me."
"India's Best Dramebaaz" is an acting talent hunt show for children