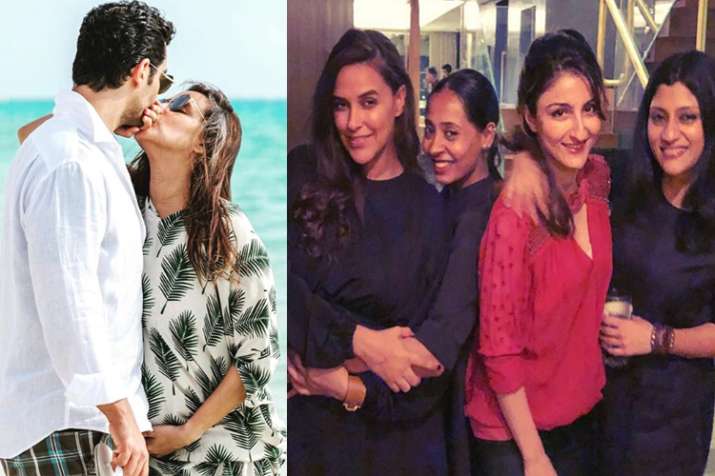 Bollywood actress Neha Dhupia turned a year older on Monday. On her 38th birthday, mommy-to-be Neha, had a blast with her close friends from the glam-industry. Among the guest list of Neha's birthday bash were filmmaker Karan Johar, Soha Ali Khan, Konkona Sen Sharma, Vicky Kaushal, Kiara Advani, Ayushmann Khurranna along with his wife Tahira Kashyap, Manish Malhotra, Roadies fame Rannvijay Singh and many others.  
For the occasion, Neha wore a plane, black dress and was all excited as she received a birthday surprise from her hubby Angad Bedi. Interestingly, the star couple, Neha and Angad confirmed the actress pregnancy on Friday by sharing series of adorable pics on Instagram. Announcing her pregnancy news, Neha wrote, ''Here's to new beginnings … #3ofUs …. #satnamwaheguru.'' Meanwhile, the Soorma star Angad sharing pics with wifey Neha, wrote, '' Ha! Turns out this rumor is true.. #3ofus #satnamwaheguru.''
Angad also wrote a beautiful message for Neha on her birthday which read as, ''Happy birthday @nehabedi2have the best year ever!!!! Yes we have two Nehas in the house @nehadhupia@gmatfitness @babsdhupia thank you for the lovely evening. @rjdeigg#happybirthday.''
"His reaction was really amazing. He is going to make a rock-solid father as he is a rock solid husband… I can't wait to see him change diapers," said Neha while talking husband Angad's raction on her pregnancy.