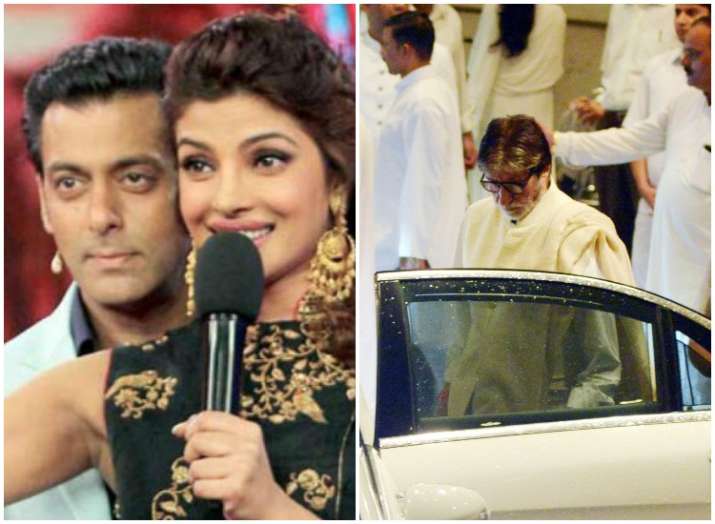 Members of the Bachchan and Kapoor families including Amitabh Bachchan, Rishi Kapoor, Randhir Kapoor, Neetu Kapoor, Babita Kapoor and Karisma Kapoor attended the prayer meet of their relative and Escorts group chairman late Rajan Nanda in Mumbai on Tuesday. Meanwhile, Salman Khan opened up about Priyanka Chopra's exit from Bharat and also congratulated the actress on bagging big Hollywood film.
Lyricists must think twice before writing item songs, says Shabana Azmi
Veteran actor-social activist Shabana Azmi, who has expressed her angst against item songs in the past, on Tuesday said lyricists must take care to avoid derogatory words. "I am against the use of item songs in the films.Shabana cited the lyrics of the "Fevicol se" song from superstar Salman Khan-starrer "Dabangg 2". "I don't feel there is any need to include item song in movies. They are not even related to the story. Lyricists should think twice before writing such songs," added the 67-year-old actress, wife of celebrated writer-lyricist Javed Akhtar.
Salman Khan congratulates Priyanka Chopra for bagging a major Hollywood project
Salman Khan has congratulated Priyanka Chopra for bagging a major Hollywood project but said he got to know about her exit from Bharat just 10 days before the shooting. Director Ali Abbas Zafar had shared the news that Priyanka had left the project while hinting that it was because of her engagement with boyfriend Nick Jonas.
Celebs pay last respects to Rajan Nanda 
Leading industrialist, Rajan Nanda (75) of the Escorts group, passed away on Sunday night in Delhi after a prolonged illness. Rajan was legendary filmmaker Raj Kapoor's elder son-in-law.The prayer meet for Shweta Bachchan Nanda's father-in-law Rajan Nanda was held in New Delhi on Tuesday. The meeting was attended by the Bachchan, Kapoor and Nanda families. The Chairman and Managing Director of Escorts Group, Nanda passed away on Sunday following brief illness. His funeral took place on Monday afternoon.
Riteish Deshmukh finds ways to make me feel special, says Genelia
Actress-producer Genelia Deshmukh said that her actor husband Rietish Deshmukh always finds a way to make her feel really special. Genelia, who turned 31 on August 5, took to Instagram where she shared a photograph of a cake baked by Ritiesh. 
"So, yesterday was my birthday and I just feel once you are a mom you kinda forget about yourself most often but thank god for Riteish, he finds ways to make me feel special and he baked me this most gorgeous yummiest caramel cheesecake," she captioned the image.
In case you missed what made news yesterday, here's your dope: Bollywood updates August 7
For more Entertainment and Bollywood News, stay with us.