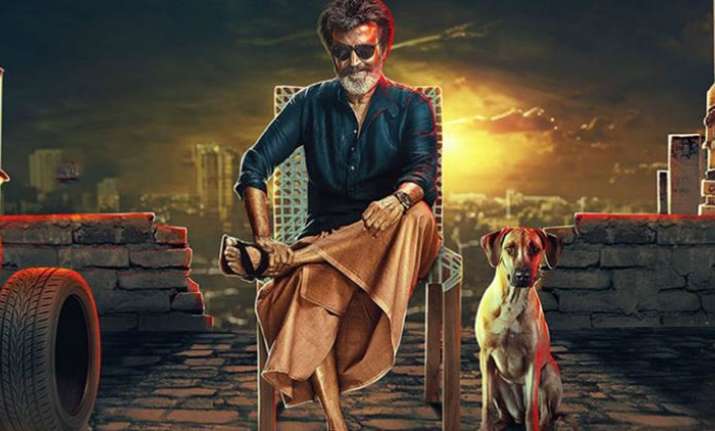 Rajinikanth starrer Kaala, directed by Pa. Ranjith is all set to hit screens on June 7 and fans of Thalaiva can't keep calm. The gangster drama stars actors such as Nana Patekar, Samuthirakani, Aruldoss, Eswari Rao, Huma Qureshi and Anjali Patil among others. Pa Ranjith and Rajinikanth have earlier worked in Kabali. 
The film is currently mired in controversy and is facing a ban in Karnataka. The makers of the movie have moved High Court seeking a direction to allow the screening along with the security. Actually, fringe groups of Karnataka were hurt by the statement of Rajinikanth on Cauvery water dispute hence, they demanded a ban on Kaala. Karnataka Film Chamber of Commerce said that distributors and exhibitors refused to screen the movie fearing backlash from pro-Kannada groups. 
Actor Prakash Raj said that the statement by Rajinikanth hurt Kannadigas deeply but this doesn't mean that the film should be banned. While talking to ANI, the actor said: "A film or any work of art shouldn't be a soft target for people. When you keep a problem alive, naturally fringe elements will try to take law into their hands. Government needs tell them that law and order is our responsibility. You can protest but can't stop a film from releasing. Karnataka Film Chamber has said that they have not asked for a ban but the distributors and exhibitors seeing the pressure have voluntarily decided to not create tension by not releasing Kaala. The onus is now on the state and central government." Rajinikanth emphasized that Kaala has politics but it is not a political film.
At the audio launch of the movie, the director Pa. Ranjith said, "Kaala is a commercial film for sure but it will talk about people's problems. Rajini sir's voice is powerful. It had to be used for something productive. Especially now that I have gotten a second chance. I see this film as a small step in creating an equal space where we respect and treat each other with humanity".
Also, a Mumbai-based journalist claimed that Kaala's story is based on his father and he threatened to file a defamation suit if there is no apology from makers. 
Besides all controversies, Kaala has driven Twitter crazy. Check out tweets below:
The only joy we get as actors is to play living breathing characters .. so blessed to have had the opportunity to play #Zareena Thank you @beemji for this and the one&only @rajinikanth ??#Kaala coming to theatre near you June 7th #KaalaInHindi @wunderbarfilms @LycaProductions pic.twitter.com/erUYcm2Ck5

— Huma Qureshi (@humasqureshi) May 24, 2018
Thalaivar in the city !! #Superstar #Thalaivar @rajinikanth arrived at #Hyderabad !!!#Kaala #KaalaFromJune7th #KaalaOnJune7th #Rajnikanth@wunderbarfilms @LycaProductions @dhanushkraja @beemji @vamsikaka @RIAZtheboss #RajiniInHyderabad pic.twitter.com/ERy8reY19e

— Radio City (@radiocityindia) June 4, 2018
Getting ready for #Kaala – @RohiniSilverScr pic.twitter.com/KqgTXQOsPF

— Kaushik LM (@LMKMovieManiac) June 4, 2018
Press Conference #Kaala #Hyderabad #Rajni Sir #Dhanush #PARanjith ???@rajinikanth @dhanushkraja @beemji pic.twitter.com/QPKjfVff8D

— Huma Qureshi (@humasqureshi) June 4, 2018
Karnataka for are ready to welcome #KingofDharavi Thalaivar @rajinikanth #Kaala #KaalaFromJune7th in Karnataka pic.twitter.com/PooNlFEQwi

— Rajini soldiers (@RajiniSoldiers) June 4, 2018
Bookings for Kaala will open tonight at 10:30PM for The Cinema Pondicherry, 12 midnight across all other sites and tomorrow at 10:30PM for The Cinema Brookefields.

Book your tickets on https://t.co/1quhxOT5xa or on the SPI Cinemas app. #Kaala #KaalaKarikaalan #SPICinemas pic.twitter.com/8bCOrSoDjA

— SPI Cinemas (@SPICinemas) June 4, 2018
How can a film be stopped because of an actor's political views? Isnt #Kaala bigger than the sum of its parts? They tried the same thing with Baahubali because Satyaraj had acted in it.
TN cannot even retaliate by stopping kannada movies,they dont run here anyway.#Rajinikanth

— kasturi shankar (@KasthuriShankar) June 4, 2018
Here is the trailer:
For all latest news, keep checking our Facebook page