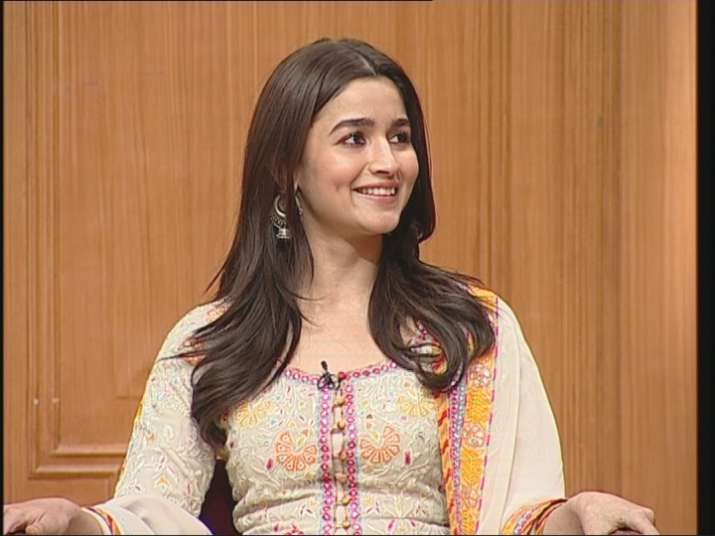 Alia Bhatt, who recently featured in Meghna Gulzar's Raazi, became the latest Bollywood celebrity to grace popular talk show "Aap Ki Adalat". In a conversation with IndiaTV's Editor-in-Chief Rajat Sharma, the 25-year-old actress spilt the beans on many aspects of her professional as well as personal life. She went candid about her latest film Raazi and what all went into the making of this spy-thriller surrounding the 1971 Indo-Pak war, released on May 11.  
Alia, daughter of veteran Bollywood director Mahesh Bhatt, also spoke about her alleged relationship with actor Ranbir Kapoor on "Aap Ki Adalat" show to be aired on IndiaTV at 10 PM on Saturday. The rumours of Alia and Ranbir's alleged relationship started doing the rounds after their upcoming movie "Brahmastra" went to floors earlier this year.
When Rajat Sharma quizzed Alia about her frequent public appearances with Ranbir, the actress couldn't stop blushing.
Replying to his question, she said: "I don't like to talk about my personal life in public. If there are rumours about me, then I shouldn't get affected by them. If there is some truth in these speculations, then obviously they shouldn't bother me. Neither I want to accept them, nor will I deny."
"However, if the reports are not true in any sense, obviously I'll come out in public to clarify myself. But I will never accept rumours about my relationship status in public," she added.
When Alia was directly asked about her ongoing camaraderie with Ranbir, she said: "Like I said, I won't deny or accept anything."
Speaking about Ranbir as a co-star, she said: "He is a very talented actor. After working with him, I'm getting to know him better. He is the most zen-like human being I've ever met in my life. He is so calm and relaxed on the sets as well as outside the sets."
Recently, Alia also wrapped up her shoot with Padmaavat actor Ranveer Singh in Zoya Akhtar's next "Gully Boy". Recounting her experience of working with an ace actor like Ranveer, she said: "Ranveer has energy of a mad guy. He's so diligent towards his work. After watching Padmaavat, I started seeing him in a very different light. "
In a short yet successful career in Bollywood, Alia has delivered nine hits out of the 10 projects she has worked in. One film which hasn't fared well on the box office was "Shaandaar" – romcom with Shahid Kapoor released in 2015.
Alia revealed that she was left 'heartbroken' after the failure of "Shaandaar", which wasn't received well at both critical and commercial levels.
"Including Raazi, I have done total 10 films. All of them were good except for Shaandaar, which wasn't received well by the audience. I was completely heartbroken after its failure. But my father told me to get back even stronger. Then I recollected myself and came back with films like Kapoor & Sons, Udta Punjab and Dear Zindagi."