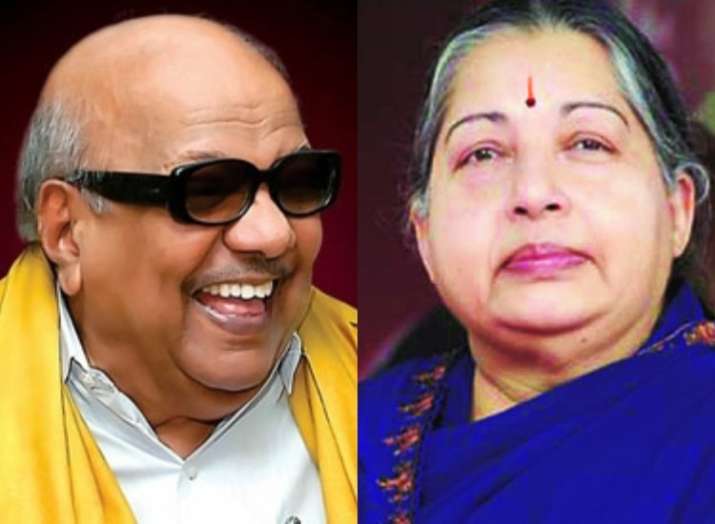 In just 20 months, India lost two of its great leaders and artist- M. Karunanidhi and https://www.indiatvnews.com/topic/jayalalithaaJayalalithaa. The demise of these two politicians has been called the end of an era as they were not just two strong personalities but had a special place for themselves in the society. Jayalalithaa's demise on December 5, 2016, broke down her fans into pieces and today, Karunanidhi's death news came as another shock to his followers. The DMK Chief was ailing for some time and died at the age of 94 at Chennai's Kauvery Hospital on Tuesday. He was a long-standing leader of the Dravidian self-respect movement and ten-time president of his own party.
Just like Jayalalithaa, Karunanidhi was appointed the Chief Minister of Tamil Nadu five times. Other than their strong political careers, the two has a lot of similarities. Both Jayalalithaa and Karunanidhi were connected to the world of cinema before entering into politics. While Jayalalithaa was a phenomenal actress, Kalaignar Karunanidhi was a popular screenplay writer.
(Also read: RIP Karunanidhi: Kalaignar's contribution to cinema and literature )
Did you know that the two have even worked together? Yes, before venturing into Politics, Jayalalithaa and Karunanidhi have worked together in a Tamil film called Mani Magudam in 1966. While Jayalalithaa was the leading lady in the film, the screenplay was written by Karunanidhi.
Here is a song from the film-
Karunanidhi was survived by two wives. The 94-year-old leader had been married three times and had six children. His three wives were late Padmavathy, Dayalu and Rajathi. He had four sons, namely M K Muthu, M K Alagiri, M K Stalin, and M K Tamilarasu and two daughters, Selvi and Kanimozhi. M K Muthu, his eldest son, was born to Padmavathy, who died early. Azhagiri, Stalin, Selvi and Tamilarasu were born to Dayalu, while Kanimozhi is the only daughter from his third wife, Rajathi.
RIP Karunanidhi: Rajinikanth and other Bollywood celebrities mourn Kalaignar's demise, read tweets