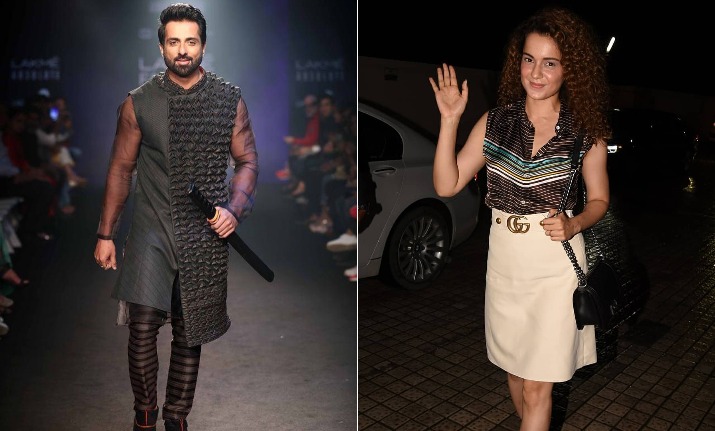 Bollywood actor Sonu Sood has walked out of period drama Manikarnika: The Queen of Jhansi. He claimed that he had to take this step due to his professional commitment towards Ranveer Singh-starrer Simmba. However, Manikarnika's leading lady Kangana Ranaut has something else to say about this. She claims that Sonu has left the movie as he refused to work under a woman director.
With Krish being busy with his other film, Kangana has stepped in to direct the patchwork of "Manikarnika: The Queen of Jhansi", which tells the story of Rani Laxmibai.
Sonu, who plays a grey character in Rohit Shetty's "Simmba", has grown a beard as part of his looks and is busy shooting the film. But the actor was supposed to have been clean shaven like a warrior in "Manikarnika: The Queen of Jhansi", backed by Zee Studios and producer Kamal Jain.
Manikarnika: Sonu Sood no longer a part of Kangana Ranaut starrer
It was reported that the makers of 'Manikarnika: The Queen of Jhansi' will tweak the script of the historical biopic because of his new looks for the film "Simmba". But the plan didn't work.
"Inconveniencing the team of his current film, to accommodate the demands of another, are against his professional principles. Sonu has taken the higher road ahead and wishes the team of 'Manikarnika…' all the best," Sonu's spokesperson said in a statement.
Kangana has claimed that Sonu "didn't even give us tentative dates to match combinations with other actors".
"He refused to meet me… He refused to work under a woman director. Even though the team suggested that they have full faith in me, it seems, Sonu had neither dates nor faith," Kangana said.
Manikarnika: Kangana Ranaut's name shows on film's clapboard as director, actor's team issues clarification
The actress also said that Sonu decided to incorporate a few 'kushti' scenes which were never there in the script.
"He wanted the producers to retain the kushti portions as he made the body for it for four months. How did I know that is happening behind my back? When writers saw the film, they said they don't want it," he said.
According to a source close to Sonu, a major reason behind Sonu's exit from the film is Kangana's unprofessional attitude and false claims.
"Sonu has never had any problems with anyone in his almost two decade-long career. Sonu has previously worked with the woman filmmaker, Farah Khan. Also, Kangana claims that Sonu had shot the kushti scene behind her back, but surprisingly the director has to be present on the set to shoot a film and not just the actor," added the source.
"Manikarnika – The Queen of Jhansi" is slated to release on January 25 next year.
Kangana Ranaut follows Aamir Khan, Akshay Kumar, demands profit share in Mental Hai Kya, Manikarnika
Kamal Jain said: "Our team is totally focused and dedicated to finish the patchwork shoot to complete the film on time as our release date of January 25 is set in stone. The post-production and VFX is going on in full swing."
Kamal also expressed his wish to work with Sonu again.
"With a heavy heart, we have mutually decided to part ways due to his date unavailability. He is a thorough professional. I would love to work with him again," he said. 
(With IANS Inputs)