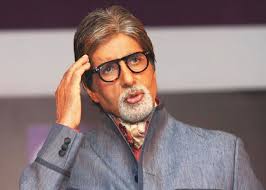 Amitabh Bachchan is the latest celebrity from Bollywood to condemn the Kathua incident, saying he feels "disgusted" by it. When asked about his reaction, the 75-year-old star, who has been the face of 'Beti Bachao, Beti Padhao' campaign, said it was painful to even talk about it. 
"Mujhe uss vishay par charcha karne mein ghin aati hai. So uss vishay ko uchhalo mat. It's terrible to even talk about it. 
"(I feel disgusted even talking about it. So, don't rake up this issue. It is terrible to even talk about it," Bachchan told reporters. 
The actor was speaking at the song launch of his upcoming film "102 Not Out", in which he stars along with Rishi Kapoor. 
Several Bollywood celebrities have reacted angrily over the incidents and have demanded justice for the victims of the Kathua, Unnao and Surat rape cases that have generated a massive outrage against the perpetrators. 
Alia Bhatt speaking about Kathua incident yesterday said, "It is a very disgraceful, shameful and terrible incident that has happened. As a girl, as a woman, as an individual, as a resident of this country, I feel very bad and hurt that something like this has happened."
Earlier, reacting to the shocking incident involving the abduction, rape and murder of an eight-year-old in a village near Kathua in Jammu and Kashmir, Shabana Azmi said: "Our country is living in multiple centuries at one time. We are living in the 18th, 19th, 20th and 21st centuries at a time, and this we are experiencing in the way we treat women of this country."
She said, "Our women have achieved great heights in their respective careers and have become leaders. But on the other hand, we read and watch such news that I don't have words to express (my emotions). We should all unite and ensure these kinds of incidents don't happen. We always say 'Beti Bachao, Beti Padhao', and we should work towards that. But for that, firstly, our betis (daughters) should be alive."
Actor-filmmaker Farhan Akhtar pleaded the case of an eight-year-old who was subjected to unspeakable brutalities. "Imagine what goes through the mind of an 8 yr old as she is drugged, held captive, gang raped over days and then murdered. If you don't feel her terror, you are not human. If you don't demand justice, you belong to nothing, Farhan tweeted.
Swara Bhaskar wrote, "An 8 year old girl was gangraped & murdered in a temple because she belonged to a Muslim tribe that Hindu right wing goons wanted evicted from their area! #Kathua #India this is on us!!!! If in #Delhi pls join TODAY."
Actor-comic Vir Das asked the people to set aside political differences and unite to fight the perpetrators of the crime. "I can't breathe after reading this. I need to share it. And so do you. Please do. Justice for the girl. Dear politicians, I'd like to see every one of you miserable scum and your army of slimy sycophants put your parties and your bullsh*t aside and do something to make sure that no child ever has to face what this girl did. But you won't. Because you don't deserve this country, he tweeted.
Riteish Deshmukh wrote, "A 8-year-old is drugged, raped & murdered and another one is fighting for justice for herself and the death of her father in custody. We have a choice either raise your voice or be a silent spectator. Stand up for what is right even if you are standing alone.' #Kathua #Unnao." 
Filmmaker Shirish Kunder shared a news article and wrote, Please read this. If your blood boils, please share it. Because at a time when there's a section of people supporting these monsters, it'll mean some humanity is still alive."
In Kathua district of Jammu and Kashmir, an eight-year-old child was allegedly gang-raped and killed.
The incident has sparked massive, countrywide outrage among people. 
(With PTI Inputs)